Corey Eschweiler Selected to the 2022 Top 50 Lawyers in America List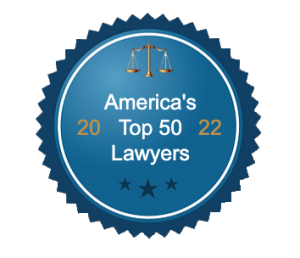 March 11, 2022 (Las Vegas, NV)—Attorney Corey Eschweiler was selected for exclusive membership to join the 2022 Top 50 Lawyers list by America's Top 50 Lawyers. Of the 1.3 million attorneys practicing in the United States less than 0.05% of attorneys receive this distinction. 
America's Top Lawyers is dedicated to promoting the highest standard of legal excellence. As such, members are either first nominated by peers, clients, and/or America's Top Lawyers' own research team. Final selection is then based on a proprietary research process that includes, but is not limited to, assessment of a lawyer's overall achievements, years of experience, verdicts, and other noteworthy factors. 
"I am humbled to be selected to join such an exclusive group of attorneys who are being recognized for providing superior legal work to their clients, while also maintaining the highest ethical standards. This is truly an honor and would not be possible without all the dedicated support and teamwork provided by the ER Injury Attorneys family," said Corey Eschweiler, Esq. 
Visit ERInjuryAttorneys.com to learn more about attorney Corey Eschweiler's many professional achievements, experience, and philanthropic contributions.  
MORE ABOUT ER INJURY ATTORNEYS
Helping southern Nevada injury victims put their lives back on track after an accident is a top priority of the legal team at ER Injury Attorneys. In fact, their award-winning lawyers have built a reputation for providing the highest level of service by taking the time to listen, learn, and evaluate the needs of those who contact their law firm. This attention to detail not only promotes a positive and open collaboration, but also a higher success rate in terms of negotiating the best possible results. For more information about ER Injury Attorneys and their dedication to serve and assist local community members, please visit ERInjuryAttorneys.com or call 702-968-7500.
 ###