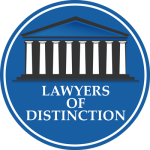 Lawyers of Distinction
Lawyers of Distinction announced that Corey Eschweiler has been selected for inclusion into its Top 10% of attorneys in Nevada group.
Lawyers of Distinction members have been selected based upon a review and vetting process which involves a Selection Committee comprised of five attorneys and one non attorney. After a thorough review of credentials attorneys are nominated by a selection committee.
These potential candidates who meet the criteria of our screening process have demonstrated a high degree of peer recognition and professional competence, placing them in the top 10% of all attorneys in the United States. Lawyers cannot pay for this nomination.
Attorneys may nominate other peers they feel warrant recognition or self nominate. These candidates undergo the same rigorous review process.
Lawyers of Distinction shall not offer membership to more than 10% of attorneys in any given state. Lawyers of Distinction uses it own independent criteria, including both objective and subjective factors in determining if an attorney can be recognized as being within the top 10% of attorneys in the United States in their respective field.
This designation is based upon the proprietary analysis of the Lawyers of Distinction organization alone, and is not intended to be endorsed by any of the 50 United States Bar Associations or The District of Columbia Bar Association. Attorneys must have no ethical violations.