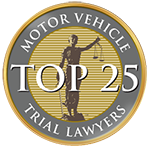 Top 25 Motor Vehicle Trial Lawyers
The Motor Vehicle Trial Lawyers Association announced that Corey Eschweiler has been selected for inclusion into its Top 25 Motor Vehicle Trial Lawyers group.
The Top 25 is an invitation-only professional organization composed of and limited to the Top 25 attorneys from each state or region who serve individuals and families who need attorneys to represent them in the American legal system regarding Motor Vehicle claims.
Members of the Motor Vehicle Trial Lawyers Association's Top 25 exemplify superior qualifications of leadership, reputation, influence and performance in their area of specialty. This exclusive organization provides superior networking opportunities, continuing legal education and the highest quality advocacy training for its members.
This association is focused on highlighting and elevating the accomplished Motor Vehicle attorney to provide the best way for the public to find Motor Vehicle attorneys for their legal needs & other attorneys to find a source for case referrals.